It is not always easy to find Islamic Holiday decorations if you happen to be living in the United States or countries where the Islamic faith is in a minority. Often times it is a result of the companies who manufacture holiday ornaments and decoration not understanding the holiday or even recognizing that there is a market for these types of holiday decorations. Fortunately, more items are becoming available to Muslims to celebrate their holidays with as much tradition and flair as they would if they were living in a country that offers many decorations to choose from.
Shown above Carvings of Arabic Script in a Palace, Court of Lions, Alhambra, Granada, Andalusia, Spain – the Muslim influence on Spanish history is not the most well remembered aspect of European history. This is one of the tangible monuments to that time.
I have found a few options for your next holiday celebration. Pretty ornaments that can be printed on demand are also available to use for decorating for an Islamic holiday. Places like CafePress and Zazzle have ornaments that have been designed that you can customize to your liking and have them printed and sent to your home. These are unique and not found in stores which makes them even more special because you may be the only one in your city who has them. I have listed some examples below for you to see.
An economical way to help decorate for an Eid party. The set includes lights, plates, napkins and balloons to make the party festive. The items can all be purchased separately so if the set does not provide enough for the number of guests that you plan to have, you can add more items. It might also be helpful to purchase more than one set.
Eid Balloons – Eid Mubarak (10 Pack)
You can also choose to have a set of yellow balloons to help decorate the room where you plan to entertain your guests for one of the Eid holidays. The balloons offer the traditional greeting of Eid Mubarak.
An ornament that can be hung in a window, wall or wherever you would like to display the traditional greeting of Muslims after the Eid prayer has been said. The ornament is printed on quality porcelain and comes with a red ribbon for hanging purposes. It is oval in shape and measures about 2.3 inches by 3.25 inches.
Colorful lettering for the Eid portion of the ornament with Mubarak underneath in a nice looking font makes this a unique and interesting piece to display in windows, on walls or even a tree if you like. Printed on demand and not sold in stores, this quality porcelain ornament comes with a ribbon for hanging.
Shown to the right are a few of the Muslim ornaments available at Zazzle where independent artists create designs for all of our pleasure. Your choice will be especially printed just for you. They can be used as a car dangle, in a Christmas Tree (or some variation on that theme) or as window decorations.
Arabic is one of the most beautiful scripts. Arabic Calligraphy is well known all over the world and adorns the facades of many historical buildings.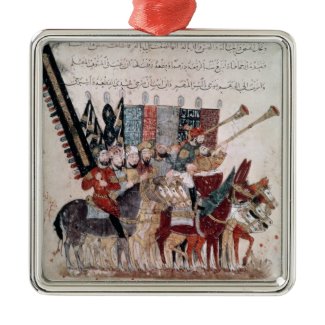 Celebration of the end of Ramadan Ornaments
by
bridgemanart
Make customized
ornaments
at Zazzle.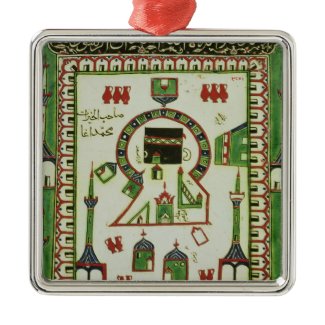 Tile with a representation of Mecca Ornament
by
bridgemanart
Design a personalized
ornament
Decorating the house is an integral part of Eid ul Fitr celebrations.
Quranic Verses and pictures of Kaaba are the most popular items used by devout Muslims to ready their homes in anticipation of Eid festivities.
Since Islam is strictly against idol worship, beautiful geometrical designs are a safe way to decorate your home. Hope you will find the selection of Home Decorations compiled on this page useful and help us imrpove it through your suggestions.
Arabic Incense and Incense Burners
Unlike Christianity, Islam does not really have a tradition of burning candles at home or religious places for worship. However, Incense has been a part of Islamic culture for a very long time.
I have been to a few Islamic places of worships and tombs of historical individuals. The sweet smell of incense imparts a truly spiritual aura to the environment. Below are some of the recommendations if you are looking for Arabic Incense and Incense Burners for the Holiday season.
Moroccan Lanterns
Moroccan Lanterns are a great choice for home decorations during the Holiday season and in fact all the year around.
The patterns and colors are simply breathtaking. These works of arts have decorated houses across continents since ancient times.
Bring some of them home this holiday and give your decorations a unique and beautiful touch.
Muslim Art Gifts for Eid
Best Islamic Art Gifts for Eid ul Fitr
An Art Gift displays class and refinement. Art doesn't necessarily have to be expensive. There are tasteful reproductions, posters, and calendars which will be appreciated on the occasion of Eid ul Fitr.  We'll try and present the best of Islamic Art which can be gifted on Eid, hope you would like the selection and help us improve it through your comments and feedback.
Art and Islam
Contrary to popular perception – Islam isn't against Art. Islamic Cultures have produced great works of art, which includes architecture, calligraphy, painting, and ceramics.
The emphasis is usually on the depiction of geometrical patterns and highly stylized calligraphy. Islamic Art frequently covers secular elements and is not limited to the Religious topics.
Explore the riches of Islamic Art on this page and choose the gifts you like best amongst these.

These tiles can be displayed in a variety of ways around the house, office, and shops.
Choose from images of important Mosques like Mecca or beautiful Calligraphy designs. A beautiful spiritual addition to any home.
If you appreciate Arabic Calligraphy there is no doubt you will love to adorn it on the walls of your home too.
There are beautiful Islamic Art Tiles and Wall Hangings which will help you beautify your home. These Religious works of art will delight all art lovers.
Most of these tiles are handmade, therefore the price may seem a bit exorbitant. Think of them as works of art and an investment in Religion and Spirituality.

Rugs Rugs Everywhere!
The Islamic world has gifted to the world some of the most beautiful and intricately designed rugs in the world.
An elegant rug adds warmth and style to a home. It is true that some of the rugs require great care, but the beauty it imparts your place makes the effort well worth it.
Not all of us can afford the best Turkish and Persian carpets, however, there are plenty of affordable options which you can try out during Eid this year.
Moroccan Pottery for Eid
Moroccan Pottery and Glasswork is noted around the world for it's artistic designs, inlay work, and bright colors.
The choice is virtually endless. Be it colors, designs, or styles. Moroccan Pottery deserves to be in your home this Eid.
Choose from flower vases, perfume bottles, tableware, decorative pieces, pitchers, and more. Bring home a piece of expert craftsmanship backed by a long and interesting history.
This page includes decorations that can be used for Christmas as well as Muslim holidays like Eid. One reader said:
Tourists visiting Saudi Arabia in December remark that the shopping malls/hotels/etc are decked with every sort of Christmas decoration. Some Muslims do celebrate Christmas.